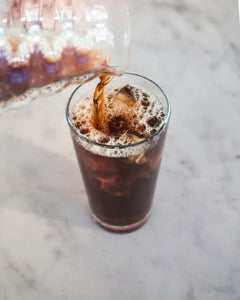 Let's celebrate summer time sunshine with our cold brew concentrate - using only organic, shade grown coffee beans, no pesticides, herbicides or mold that is so heavily laden with conventionally grown coffee beans. These beans are full of flavor and fueled with caffeine to get you through your day!
Recommendation: 1:1 concentrate to water or milk.  Using 1:1 will make 64 ounces of cold brew coffee! 
Want more of a kick, adjust ratio to your desire! Less of a kick? Try 1:2 ratio!